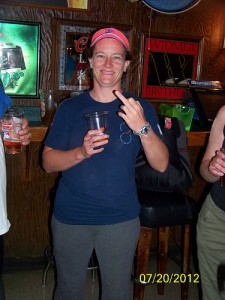 Rush-ing to the Inn and getting Deep-ly Stroked
The first night of Wharf to Barf weekend began at the Rush Inn.  Deep Stroke volunteered to hare a few days before, when Hugh Heifer decided to go to change her plans and run off to a hippie music festival in Oregon.  A short trail was promised by Deep Stroke and short it was.  A whopping 1.3 miles!  Our one and only visitor was Mommy's Little Cock Whore from FHAC-U over the hill.  He was bestowed the honor of wearing the hash shit vest.  It was the second night of hashing for Lube me up Scotty.  His wife left him alone for 2 months while she went to China, so he was trying to make up for lost time.   The pack circled up behind the bar.  We went in the direction of Water Street, when we saw Last Call Norm on the corner, and she joined the pack.  Tonight's trail went over the Water Street bridge, through San Lorenzo Park, back over the bridge on Soquel downtown, briefly on Pacific Avenue, and to beer check at Santa Cruz High School.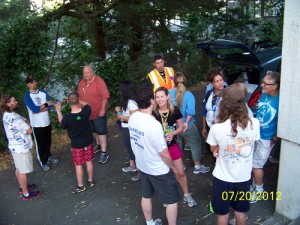 How rebellious!  Brings back memories of the time I got suspended for drinking beer and smoking cigarettes on school grounds after the football game.   Or the time at band camp when I hid a bottle of Southern Comfort in my saxophone case and got the whole horn section trashed.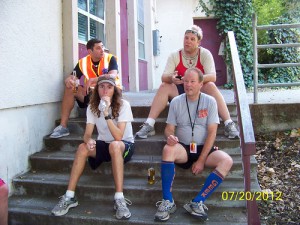 The pack returned to the rush Inn for pizza and beer.  A short Religion was held around the pool table with blaring music in the background.  Hairy Potter was RA and Ralph-U-Crammed-In was beer fairy.  Pearl Necklace received the first down down for not doing trail.  Last Call Norm did some of it, but wasn't at beer check, so she drank too.  We sang happy birthday to Puff the Magic Drag Queen since his birthday was on 7/16.  Not sure if the look of shock and horror on his face meant that he forgot his own birthday or if he wished others didn't remember.  Visitor, Mommy's Little Cock Whore drank next.  And last but not least, the hare!  Deep Stroke received a patch for surviving her 25th Surf City Hash as the juke box played Let the Good Times Roll by the Cars.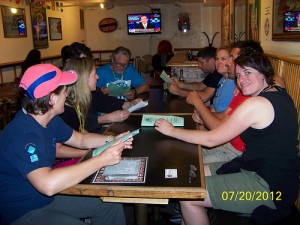 A small group went on to do a pub crawl, and others went to a beer and film event on the west side.  Waxi and I went to the pub crawl with Deep Stroke, Twat did you Say?, TIMMY!, Puff the Magic Drag Queen, Thmp-Thmp and Princess Di(arrhea), Mommy's Little Cock Whore.  We hit the Red Room and 99 Bottles, and got home before midnight.  Gone are the days when we closed down bars, went to after hour bars and partied until the sun came up.  At least no one got arrested.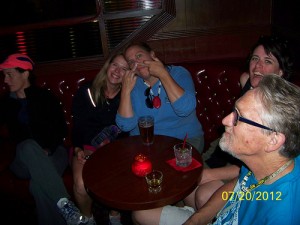 On On,
Shallow Hole