This week our Hares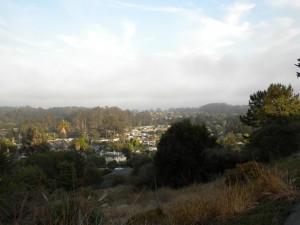 Puff the Magic Drag Queen and Hugh Heifer made us fight hellish rush hour traffic to get to JJ's Saloon and Social Club in Soquel.  After 45 minutes in the car, I REALLY needed a drink!  Aside from my usual Scribe duties, I kindly obliged Puff's request to be Hash Cash and Flash.  I'm a Gemini, so I'm used to being twins, but being triplets is a bit challenging.  I thought to myself, "Damn, I'm my own threesome!"  Hashers were handing me money left and right, and I didn't even have to work a stripper pole!  I'm bringing a garter next time.
Twat did you Say? brought Virgin Nancy with her and started sucking down 3 buck gin and tonics like they were a Kmart blue light special.  Occasional Rapist also appreciates a deal and joined the gin and tonic party.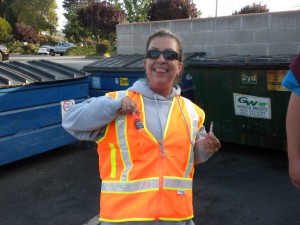 Cuff my Muff was proudly wearing the new fluorescent orange Hash Shit Vest.  She wasn't embarrassed to wear it.  My guess is that she was either happy to have pockets to stash her mini bottles of Jack Daniels or she was trying to pick up sexy construction workers on Soquel Dr.  Goat Blower showed up after being a long time backslider.  The Hares were trying to be clever, so they left at 6:40 pm since it was Hash # 640.  TIMMY! wasn't present, so dBASED assumed GA duties and did circle up behind the bar.  We had to wait for Virgin Nancy to get out of the bathroom before we could start introductions.  Hot Wheels brought his cousin Just Jason.  He was brave enough to come back after the tunnel of terror the week before.
The trail went across Porter St and took us right back to Soquel Drive, on the corner where the construction workers were.  We crossed the street and looked for flour in the parking lot but came up short.   We finally found trail and headed up Soquel San Jose Road.  No four in the direction of Soquel High School, so we crossed the street and wandered around a bit until we found a little bridge that crossed a creek.  We crossed Main Street and went past the weird house that is rumored to have exotic animals.  Trail lead us left on Soquel Drive for what seemed to be an endless amount of time.  Princess Diarrhea and I saw a sign for Jewel's Party.  We were so thirsty that we would've been tempted to crash the party if it was still going on.  We turned left on Fairway and another left up this big ass hill, through some shiggy to the top of the hill where there was a cool view.   We ran into some neighbors who thought we were nuts for running up there.  They took one look and Broke Bench Mountain and Hairy Fuck 2.5 and didn't believe we were a running group.  We continued to follow streets that kept leading us up more fucking hills. The road turned into trail again and we spotted the bum wine check.  It was nasty, cheap wine with a cork floating around in the bottle.  We ended up on Fairway in front of Camphill Community group home for the disabled.  No hashers reside there, as far as I know.  Beer check wasn't far from there at Puff's friends Joanne and Peter's house.   Hashers must have made a great impression, because the last time a beer check was held there was 8 years ago!  It took a while for dBASED to show up, but he finally made it.  His trail was 5 ½ miles!  Word to the wise, NEVER follow dBASED!
Religion was on the street next to their house.  Accuprick was RA, and named Cuff my Muff his Beer Fairy.  The first down down was awarded to everybody wearing orange.  Cuff my Muff, and the cute couple wearing matching sweatshirts (dBASED and Occasional Rapist).  Hairy Fuck 2.5 and Broke Bench Mountain had a small amount of orange on, so they drank too. 
Dude, Where's my Trail? was punished for wearing new shoes.  Let this be a lesson to us all!  His down down consisted of beer poured through a tea bag (my dirty running sock), into his shoe.  Makes me cringe to think about it.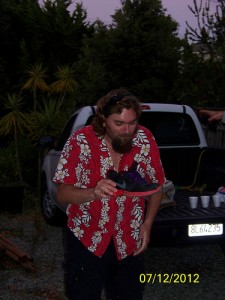 He choked down some of it.  Cuff my Muff felt sorry for him and drank some too.
Whiskey drinkers, Cuff my Muff and Hairy Fuck 2.5 drank a down down together.  Backslider, Goat Blower serenaded us with a French song and showed her tits.  The teenagers sure got an eye full there!  She proclaimed that she will be singing in a brothel for a renaissance fair.  That should be a sight to see!  Virgin Nancy told a lame joke.   dBASED was punished for leaving flour in the front seat of Hugh Heifer's truck.  Accuprick drank for being caught pissing on trail.  We thanked our hosts by giving them a down down and singing them a song telling them to go fuck themselves.  We won't be invited back there for 10 years now!  And last but not least, the Hares…………………..  This was an A to B trail.  The only transportation available was Hugh Heifer's truck.  Cuff my Muff, Thmp-Thmp and I were rebels and illegally rode back to the bar lying down in the back of the truck.  Last time I did that was when I was 16 years old.  What a blast!   Several hashers got their cars and went back to pick up the rest of the pack.
On On,
Shallow Hole
P.S.  Don't forget next weekend is Wharf to Barf!  There will be 4 days of hashing debauchery starting with Thursday's Pre-Lube hash #641 at Seabright Brewery.  I will be co-haring with newly named Cum Rash for her first haring experience.  See all you half minds there!