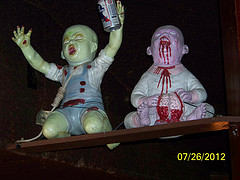 Always a crappy smoke filled ambiance, the Jury Room was the start for this week's hash.   Our Hare, Banana Basher must have missed Psycho Baby and his creepy friends.  Dog Breath resurfaced from foreign lands.  Butt Balls, Little Anal Annie and their dog Farley ventured out for the evening.  Just Petra showed up for her 5th Surf City Hash.  Slonad found himself free on a Thursday night and decided to join us.  Infamous hasher Weiner made a rare guest appearance.   His wife was out of town, so he came out to hash.  There seems to be a trend here.  Several hashers only showed up last weekend for Wharf to Barf because their wives are out of town.  Weiner was the first Surf City hasher to reach fifty harings.  He received the honor of wearing the Hash Shit vest for the night.
The pack circled up in the rank smelling alley next to the bar.  After brief introductions, the pack was off.   There was flour in the alley, so everybody headed the same way, in the direction.  We crossed Water St, onto Market St, then to the Branciforte Creek trail.  Then back to Market St, right on Goss, right on North Branciforte Ave, and over the Highway 1 bridge.  Weiner took off running down the road in hot pursuit of trail.   We passed some folks having a moving sale and they told us to take a right at the next corner.  Deep Stroke, Slonad and I were on a side street and someone said, "that's some pretty old looking flour".  We were all thinking the same thing.  Yes, PRELAY!  This trail was way too long for a guy who's main exercise is bicep curls with a beer mug.  We followed trail back out to North Branciforte Ave, and left on Water St.  We made a right down a side street, wandered around a bit and found ourselves on Soquel Ave.  We were getting pretty thirsty.   As we passed the Double O, Weiner went in the bar hoping it was a beer check, but no luck.  We proceeded down Soquel until we spotted the elusive "Beer Near" in front of Branciforte Plaza, in the parking lot behind Ristorante Italiano.  The same spot the beer check was last Sunday.  How creative!
Religion was in a parking lot behind the Jury room.  Butt Balls served as RA and he appointed yours truly, Shallow Hole his beer fairy.  Hugh Heifer got a down down for not bringing a trash bag.  She also didn't bring the nasty warm beer for down downs so hashers got treated to decent beer this week.  Broke Bench Mountain received a down down for wearing flip flops and for losing a toe nail during the Wharf to Wharf race.  I guess that makes him a real racist now.  Twat did you say?  and Princess Di(arrhea) told the tail of getting attacked by yellow jackets at Wharf to Barf.  Dog Breath was punished for losing his hash necklace on trail.  Someone found it and returned it to him.  Wine-O Little Anal Annie showed up with her cooler, wine and her own snacks.  She was punished for wearing a racist sweatshirt.  Butt Balls also announced that 7/27 was her "22nd" birthday.  The pack serenaded her with a rollicking version of Happy Birthday Fuck You!  Weiner was punished for being a backslider.  Puff the Magic Drag Queen got a down down for 570 consecutive hashes.  Get a life!  Slonad was also punished as a backslider and made fun of for his orange jacket.  Rebel Deep Stroke committed the cardinal sin of challenging the RA.  Rather than effecting change, she was awarded a punitive down-down.  Little Anal Annie was congratulated on her 225th Surf City Hash!  Just Petra was finally named!  She's a veterinarian and likes seals and cats, so mob rule decided on Wet Feral Pussy.  Nipple Butt welcomed her to the hash with wet dog kisses.  And last but not least, The Hare, Mr "I don't break a sweat", Banana Basher!
On On,
Shallow Hole