The Redwood forest,
Devours all that encroaches into it's verdant greenery…and surrenders none of it back from whence it originated. Never has this been more true than it was on the evening of 6 July 2023. It was upon this occasion that Occasional Rapist and dBASED led a small contingency of Surf City hounds into the dark depths of some of the unexplored regions of UCSC property. This was meant as a correction, shall we term it, of a fantastic fiasco staged in this very area a mere two weeks prior by Dung-Fu Grip. What we were promised was a correction but what we got was an over-correction. From short trail and a lost hare we were dosed with a much longer trail and the Turkey hare leaving at 6:10 and the Eagle hare deciding to completely drop his intended Eagle trail and trot along behind the Turkey hare. Two weeks ago it was a Surf City first, that being the hare becoming lost on his own trail multiple times. This time it was the Eagle hare sending the Turkey hare out half an hour early, then simply following the Turkey hare, not a care in the world. ANOTHER Surf City first we could have easily spent a hashing career and never have been a party to.
Let's set the stage for this tragedy in three acts. Three acts as that just happens to coincide with the number of hounds that showed snout for this. Two weeks ago it was four hounds. This week Hareless and Circle Gherkin', having had their fill of this place, sat this one out and were replaced by Flours For Anal Bum and TIMMY!!, recently returned from the Emerald Isle.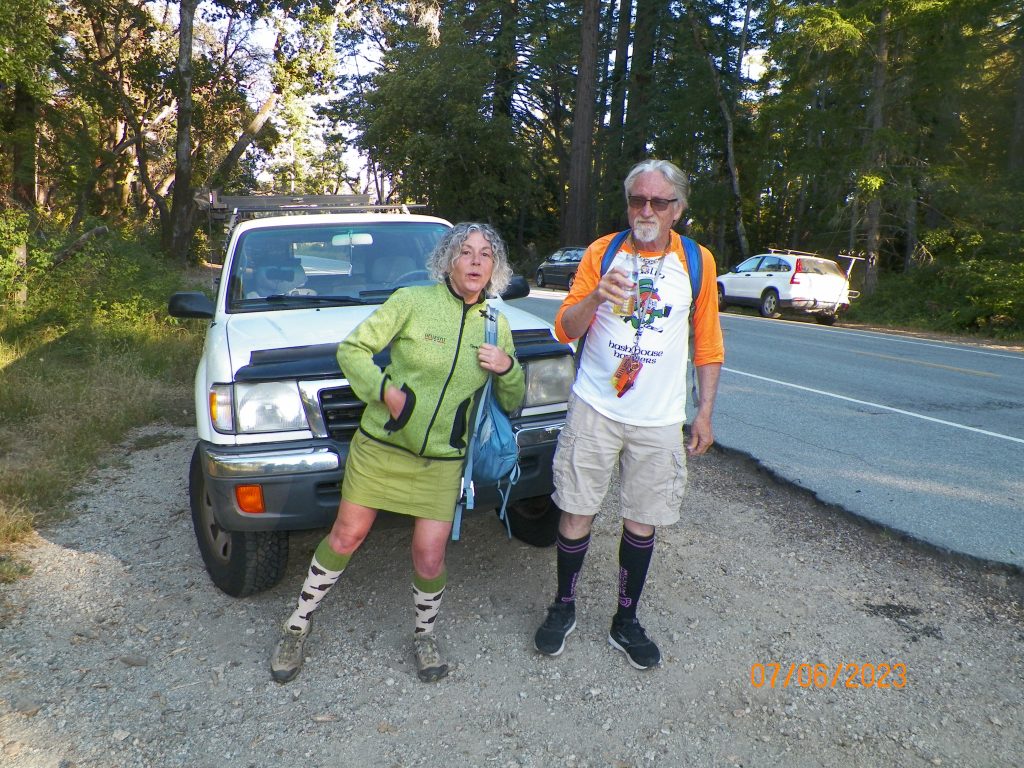 dBASED made more excuses for Instructions of Trail than giving a warning about what to expect. Scribe believes that was appropriate as the Eagle trail has been dropped and the Eagle hare would now trail the Turkey hare. Strange configuration. (second) Hare out.
The mini-pack waited less than 10 minutes before beginning to walk trail. Scribe will not even attempt to name any of the trails we were subjected to, most of which are unnamed at best and illegal and dangerous at the worst. Scribe will validate the arrival of a fourth hound about a third of the way through trail though.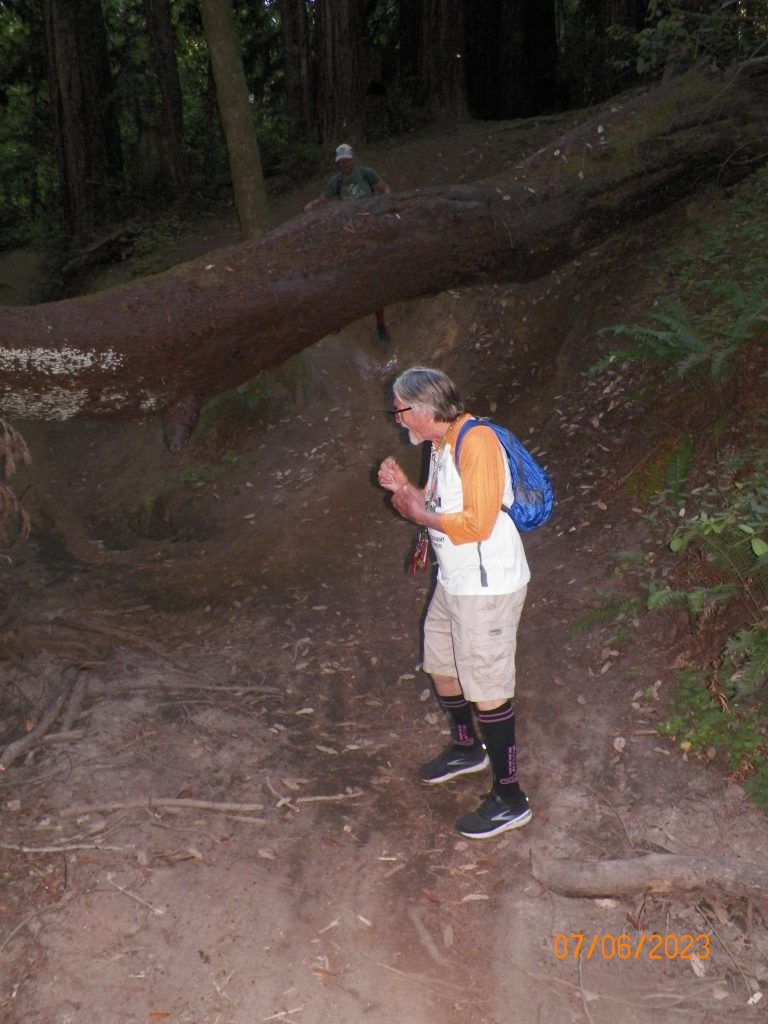 We encountered a large number of mountain bikers of course but mercifully no mountain lion sightings. Eventually, somewhere south of Twin Gates, we discovered our hare-pair lazily sucking away on Beer check beer. We gladly joined them. Upon the completion of our appointed task here, we undertook a rather lengthy on-in to the start where Dung-Fu Grip assumed the role of Religious Adviser. Here's a sampling of the down-downs issued this week: Dung-Fu Grip for being (exceptionally) late; TIMMY!! as a backslider; Courtesy Flush for only showing for Religion and ,worse yet, not drinking as he swallowed 9 margaritas on July Fourth; Puff as the only hound to attend both hashes held at this locale; TIMMY!! for his 666th hash with us. And yes, the hares. They were thanked for taking us to the Redwoods but NOT for 'taking us to the cleaners!' This Hash is over.
On-on-on was assembled at Parish Publick House and featured damn near everyone that showed snout for this Hash!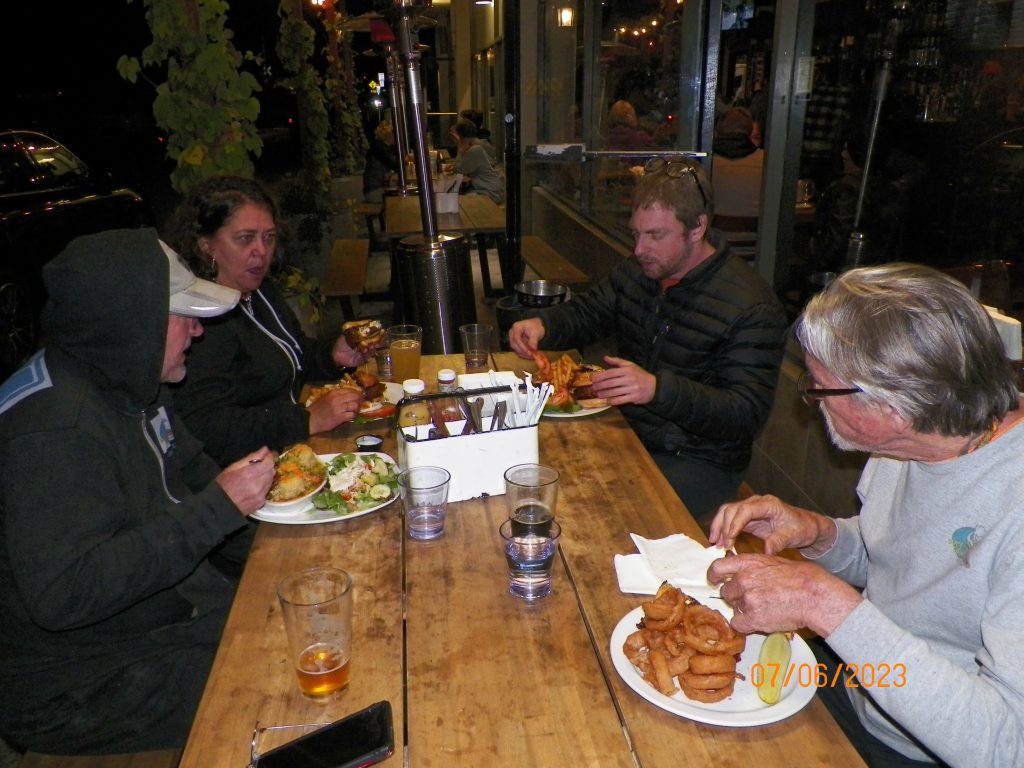 The preceding was a factual accounting of actual events though possibly not as they actually occurred. One should never allow the facts to stand in the way of a good story. Do not allow the profound to become the enemy of the interesting.
A Scribe's sole purpose is to provide entertainment to their kennel mates. Whether or not they are successful in this endeavor is still a subject open to debate.
I chose not to complicate this Hash Trash with facts thereby allowing me to extract almost any end i desired. It was with this motive in mine I recounted the events that comprised Hash Twelve-53.
By Special Appointment of His Royal Majesty 'G', the Hash Trash has been compiled and printed by permission of no one other than the author at Santa Cruz, Ca., or elsewhere if need be, on this, the eleventh day of July in the year of our Hash two-thousand twenty-three.
Submitted with all respect due,
Puff
the
Magic Drag Queen
Surf City H3 Scribe